A History of Dwarves
Delving into the Past and Forging Ahead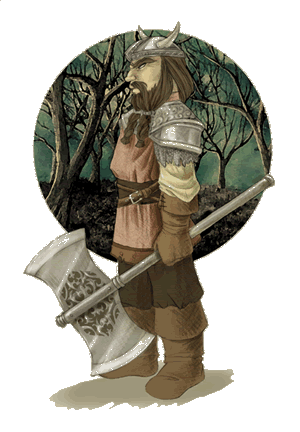 Deep within the halls of the schools of Ta'Illistim, it is a tradition that the scholars therein go forth and walk the Lands. Some do not travel far, and others never return, but all gain wisdom as result of their journey. In the tongue of the ancient scholars, this practice is referred to as "Raen utuva nole" (Wandering to find wisdom).
My name is Lutiernse Angalamor, and I am of Ta'Illistim. My mother was a scholar of magics, and my father served as an officer within the forges underneath this great city. Throughout my years, he always spoke of the great skills of those called dwarves, and deep within my heart I silently lamented that so little was known of this race. Ten years ago, I was finally ready to take the walk of the scholars, and I have just returned.
After many years and many long nights of song and story (and ale), this traveler has been able to chronicle the tales told with other events in Elanthia's history, and therefore can give the curious reader the most comprehensive dwarven history that has ever been recorded. My hope is that future scholars will know to continue this history in their tomes, and add to the libraries of knowledge.
The history of the dwarves will never be complete. As a race, they are amongst the most private of all mortals. Little is known of the dwarves prior to the war with Despana. They were known merely as miners and merchants. They were seen to be fierce of heart and known to be strong of spirit. Barely sharing words amongst each other, they used mostly simple, inflected grunts to communicate their basic needs. When alone and gathered together, free of the prying eyes and ears of other races, they would share their tales in the form of song and stories, told over ale and camaraderie - celebrating their heartiness and brotherhood, and educating the future generations at the same time.

And Eonak walked slowly in the sunlight,
Paying less attention to his steps
Than to the piece of rock he found
Deep within the earth…

As the breaking of day heralded forth, so too,
Came a soft breeze from the West,
Causing a swirl of dust to push away from Eonak's simple garb -
A knowing smile to play across
The Arkati's hardened features…

Eonak's eyes surveyed the lands around him,
For as much time as he spent deep
Within the bowels of the earth, the
Strangeness of the valleys often captivated him.

Eonak's thoughts turned inward, and who
Among Mortals can say what, or who, inspires an Arkati?
He pulled a small gem-cutting tool from within his pouch,
And set his sights upon the stone in his hand.

And time unmeasured passed,
As inspired artists do not take note of such matters,
With the eyes of Eonak steadfast upon his creation,
On that day walked forth the first dwarf.

--From ancient dwarven tavern lore