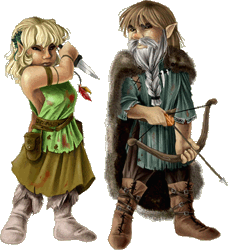 Forest gnomes live deep within Elanthia's forests. They live in bloodline compounds protected from predators and prying eyes by ingenious systems of camouflage, sometimes including thickets, rivers and streams, deadfall and other traps, and even poisonous foliage.
Forest gnomes are classic hunter-gatherers, and they know the forest around their compound as well as you know your local food store. Forest gnomes rely on a vast array of techniques to compensate for their size disadvantages, including: landscaping the forest around their compounds to create killing grounds (by, for example, forcing a running deer along a particular path that ends in a deadfall, or by burning off underbrush to create kill zones for gnomish archers).
Nevertheless, due to their need to hone martial skills for hunting and self-defense, their need to hike long distances through wild terrain, and their need to haul trees and large stones, the forest gnomes have developed greater strength of body than their urban cousins. Perhaps due to a more leisurely pace of life, but more likely as a result of their love of poetry and rumination, forest gnomes have developed greater wisdom than the average burghal gnome can boast. And because of the need to work together in groups (to coordinate hunting, work, and travel) the forest gnomes are more disciplined than the burghals.
See also: Forest Gnome Cultures, Forest Gnome Clothing, History of Gnomes