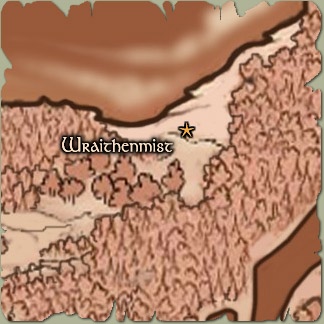 Few adventurers dare to travel within the dark and strangely quiet forest known as Wraithenmist. North of the Sylvarraend Road and not far from Ta'Illistim, the forest reaches northward to the banks of the Lake of Shadowed Sorrows. Here within the mists and moss, even the lowly lichen becomes a threat along with the echoes of what once was.
Home Region: Ta'Illistim
Rumors: Long past, a dark and spiteful evil touched the forest and it was forever cursed with shadow.
Indigenous Creatures: darken, ghostly mara, spectral lord, shimmering fungus and maw spore.