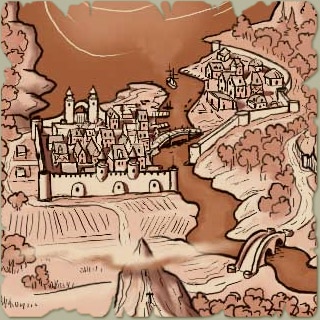 Wehnimer's Landing, port of call for sailors and haven for all along the northwestern coast of Elanith. Located at the mouth of the Locksmehr River, Wehnimer's Landing was founded approximately 200 years ago by the famed adventurer and explorer Rone Wehnimer. Despite its backwater beginnings, Wehnimer's Landing has grown into an important center of trade, commerce and civilization while maintaining its simple harbor town appeal.
Home Region: Wehnimer's Landing
Points of Interest: A great number of locals spend their time in and around the Town Square.
Rumors: Word on the street is that an elaborate system of catacombs lies hidden beneath the city.
Indigenous Creatures: cave gnome, giant rat, giant ant, thyril, relnak, lesser shade and fire salamander.