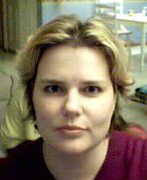 "I work full time doing tech support for an ISP, which is like doing referrals minus the PvP."

--GM Rinae
Co-Worker's Not-So-Candid Quotes
"She always says hello with a smiling pleasant 'How goes?"
"She's the Seacave Queen! She's very dedicated to her premium players and a hard working GM. She does a great job."
"She always has the sweetest and most patient look on her face. Even when she's walloping you about the head and shoulders for really ticking her off."
"Rinae always has a smile on her face. Sometimes it makes you wonder what she's REALLY thinking about."
"I don't know how Rinae does it, but she always seems to have time for one more tiny last-minute detail to make a project go from just 'very good' to 'spectacular.'"
"It is a delight to work with Rinae on premium issues. Not only is she dedicated to Estate Holders, she has a sense of humor about all the dogged work it takes to get the job done. She's accomplished a lot of what was envisioned with the program and obviously works hard to see to it that premium continues to be developed to its full potential."
"Rinae is the beating heart of the Premium Team. Her dedication is extremely impressive."
Greetings! I'm told I must write a short paragraph about myself so here goes. I'm a Texan in Oregon hoping to get back there some day. I've two kids in elementary school and a hubby who loves to play graphics games, which means I have Dragonrealms to myself. I work full time doing tech support for an ISP, which is like doing referrals minus the PvP. Currently, I'm in charge of Premium and have been for a couple of years now. I've built the premium pier and the frostweavers hunting area near Shard. Also, I got longterm benefits off the ground and out to the premium masses. I've done a few merchants but my favorite is The Perfect Rose.
Where were you born?
Great Lakes Ill.
Where do you currently live?
Aloha, Oregon.
Do you have any pets/kids/both?
2 kids and 2 dogs that think they are kids.
What is your current occupation?
Tech support.
What did you want to be while you were growing up?
Teacher, legal secretary.
Favorite TV shows?
Buffy, Star Trek, Alias, Angel, Charmed, Smallville.
Favorite actors/actresses?
Favorites I don't have but I admire Meg Ryan and Mel Gibson.
Favorite musicians/bands?
Jewel, Cher, (I like sound tracks- Practical Magic is my favorite) Sarah McLachlan.
Favorite books/authors?
Anything SF/Fantasy, George Martin, Andre Norton, Anne McCaffrey, really too many to name. The black Cauldron was my intro into fantasy.. well and my grandfather's Slave girl of gor, which should have been locked away.
Where did you go to college and what did you study?
University of Phoenix, I have a BS in Business and IS.
Favorite/least favorite job you've ever had?
Favorite: Movie theatre

Least Favorite: 7-Eleven
Favorite hobbies?
Reading.
Favorite foods?
Stew, chocolate anything.. cookies, oatmeal for some odd reason. Pretty much if its called food, I'll eat it. Well, all but anything fishy.
Favorite board games or computer games?
NWN, Sorry, Scrabble, Monopoly.
Favorite sports/sports teams?
Dallas Cowboys, Spurs.
What would you do with a million dollars?
Pay bills, buy a bigger house and take a nice long vacation.
What three people past or present would you invite to dinner?
Sarah McLachlan, my grandfather and Don Johnson would make some kind of dinner.
What is your favorite quote?
@#!%& Happens.
Name something you'd like to do before you die.
See Europe.
What's your favorite acronym?
BYOB
And the Zobmondo question:

Would you rather forget your entire childhood up to age 15...

Or...

completely lose your memory of the last 5 years?
Forget my childhood up to the age of 15 is what I would pick if I had to. My childhood wasn't exactly fun and I certainly would rather remember my kids' than mine.