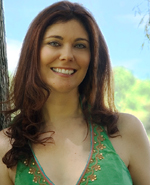 "How anyone can accomplish so much, in such pointy shoes, and look so good while doing it all..."

-- Anonymous, on GM Helena
Co-Worker's Not-So-Candid Quotes
"Helena shines the best at 'crunch time.' When everyone else is haggard and grouchy, she is quick to joke and lighten the mood, looking at things in the best light. She is always one of the first to jump in and acknowledge hard work and encourage the rest of us to keep up our best efforts."
"GM Helena has a fine way of turning a phrase that creates an atmosphere of understanding while allowing for fun. She is always prompt to respond in a most helpful fashion to any questions or requests and her patience is amazing. I just have this problem each time I hear her voice, I envision a different wild pair of shoes!"
"She's chocolicious!"
"She's the picture-perfect GM -- supportive, friendly, knowledgeable -- everything you want in someone who handles our precious little newbie GMs (and for that matter, everything you want in someone you go to for advice or assistance yourself!). Besides that, she's just fun to listen to in person (love that accent), and I'm sure there are those who would add fun to look at. What's not to love?"
"Always caring and compassionate, as long as you don't get between her and that new pair of shoes, GM Helena is one of the people it's just a pleasure to know."
"Amongst her many talents, her most endearing trait is her caring for others. She's there for you if you want to say hello, if you need her help solving a problem, or need someone to complain to. She is one of those rare gems on staff that is willing to listen to anyone that needs a shoulder to lean on, for whatever reason."
"How anyone can accomplish so much, in such pointy shoes, and look so good while doing it all... is a mystery not to be explained to mere mortals!"
I've been a GameMaster with DragonRealms since 1999 (with an 18-month break between 2001 and 2002). I've had the opportunity to work on many different teams during my tenure on staff, from digging through a one-year backlog in the Bug system (that was painful), to planning Events, Festivals, and Carnivals, and helping to administer Systems under development. I became the head of hiring and training for all of DragonRealms in April 2004 and love my job. I am happiest being far behind the scenes, just working hard to make sure that our wonderful staff are well trained and prepared to make the game fun and interesting for you. You may not know it, but you've probably met me before in the various alterers and personas I've portrayed. I am so grateful to work on this game and to get to know our fabulous players. I also have the very difficult duty of representing the United Kingdom as the only British GameMaster currently on staff.
Where were you born?
Oakham, Rutland, England, the UK, the World, the Universe.
Where do you currently live?
Just outside of Chicago, Illinois. Other than living in the United States, I've lived in China, Mexico, and the UK.
Do you have any pets/kids/both?
I claim parentage (they'd probably say ownership) over every single new GM I've hired since I took over hiring and training in 2004 (which is over 20 now). The only sad part is they never call, they never write, nothing. Oh and there is that little mischievous monkey that's in my life, too. And we can't forget the rabid squirrel who lives on my property—he likes to greet me by hurling walnuts at me. Does that make me his pet?
What is your current occupation?
I'm a freelance writer, editor, and project manager. Why, are you hiring?
What did you want to be while you were growing up?
I wanted to be either a neurosurgeon or psychiatrist. I'm not even really sure I knew what being a neurosurgeon entailed, but I thought it'd be fun to work on people's brains. Now, when I grow up, I want have the job of the person who names lipstick and nail polish colours.
Favorite TV shows?
I don't know if I want to share. I'm afraid if I write them down I'll jinx the shows and they'll get cancelled. All my favourite shows seem to get cancelled. Let me see, I loved Farscape, Angel. Firefly was great, too. I love Battlestar Galactica and Rome. Lost is brilliant. I got pulled into Amazing Race this past year. Desperate Housewives has become a shameless guilty pleasure. I love documentaries. Classic films. Foreign films. Most anything that's good fantasy (like Lord of the Rings and so on) or a good mystery. I have a special weakness for a well written story.
Favorite actors/actresses?
It all depends on the film.. but I love Ralph Fiennes, Hugh Jackman, Cate Blanchett, Johnny Depp, Viggo Mortensen.
Favorite musicians/bands?
These are impossible questions, you know. I doubt there's enough room to really give this question justice as my musical taste is always expanding and I'll forget some, but this week I was listening to Doves, Radiohead, Kings of Convenience, Coldplay, Iron and Wine, Travis, Porcupine Tree, any good jazz (particularly the great vocalists like Billie Holiday, Ella Fitzgerald, Nina Simone), The Shins, Badly Drawn Boy, Chemical Brothers, New Order (Joy Division), Frou Frou, Mozart, The Smiths, Led Zeppelin, The Cure, U2 (the old stuff), Police, Air, Belle and Sebastian, Death Cab for Cutie, Archer Prewitt, Chopin, Brahms, Postal Service… you can check out www.radioparadise.com to get an idea of my eclectic taste.
Favorite books/authors?
This is hard… so many loves: Chaucer, Shakespeare, Ben Jonson, John Donne, Li Bai and Tu Fu (Chinese poets), Jane Austen, the Brontes, George Eliot, Elizabeth Gaskell, Kahlil Gibran, George R. R. Martin, Sara Douglass, Robert Jordan, JK Rowling, Terry Goodkind, Bernard Cornwell, Roald Dahl, Beatrix Potter, Enid Blyton, Dr. Seuss, Simon Winchester.
Where did you go to college and what did you study?
I received my BA in Early Modern English and Chinese Literature at the University of California. I've done advanced coursework in publishing at the University of Chicago.
Favorite/least favorite job you've ever had?
Favourite: What I'm currently doing. I love freelancing.

Least favourite: I don't think I really have one. They have all taught me something.
Favorite hobbies?
Cooking, fine cuisine, shopping for shoes, paper art and bookmaking, writing, learning new languages, service, travel, chocolate, discussing music, literature, and film, driving too fast, teaching Americans how to pronounce things correctly, friends and family.
Favorite foods?
I think it's easier for me to say what I don't like. My motto is always "eat first, ask later." I do love fruit, chocolate, licorice, and a good cup of tea, though.
Favorite board games or computer games?
DragonRealms! (duh), Ma-jiang (a Chinese game), Monopoly, I like those world/empire building games, too. Oh and do jigsaw puzzles count?
Favorite sports/sports teams?
Favourite spectator sports: football (the real football, what Americans call soccer), rugby, swimming/diving, cycling, track and field, winter sports. And I am deadly on the croquet lawn.
What would you do with a million dollars?
I'd finally open up that little used bookstore and bakery I've dreamed of opening so I could be surrounded by lots of books, good coffee, and great people. I'd start a charitable foundation for the arts or literature, invest some of it, travel a lot more, and surprise my family with unexpected, generous "gifts." And could you imagine my shoe collection?
What three people past or present would you invite to dinner?
I'd invite my parents and my sister. We live all over the world, so even being able to have dinner together is precious to me.
What is your favorite quote?
"Treat others as you wish to be treated." (AKA the Golden Rule)
Name something you'd like to do before you die.
Climb a mountain or at least trek through the Himalayas. Do I have to name just one thing? There is so much left to do…
What's your favorite acronym?
IDHAFA. (I don't have a favourite acronym.)
Who is your hero or heroine?
I consider any person who provides selfless service to other human beings a hero or heroine.
If you could have any musical group or artist, past or present, play at your birthday party, who would it be?
A jazz band including Louis Armstrong, Dizzy Gillespie, Miles Davis, Charlie Parker, and Thelonious Monk with guest vocals by Billie Holiday and Ella Fitzgerald.
If you could have any superpower, what would it be and why?
The ability to heal others. Imagine what suffering you could abate if you could heal others? Plus this way I could keep the other super heroes with the flashier superpowers fit for duty so they could save the world.

But then again, this morning GM Tvini and I were talking about how we want to turn our obsessions for knitting (Tvini) and paper art (me) into superpowers. She'd attack bad guys with her knitting needles and get them to confess their misdeeds with a yarn lasso (ala Wonder Woman) and I'd give them massive paper cuts and fight with my pen (as it is mightier than the sword). We'd be the Knitter and Paperer. We are now looking for an illustrator who can turn this idea into a brilliant comic book.

But I don't know. Being a healer sounds pretty wonderful, too.
And the Zobmondo question:

If you had to choose, would you rather sit with your family and friends and have to watch a video of every time you ever cursed...

Or...

a video of every time you ever lied?
Well, I think I'd have to pick the former (cursing). I don't curse very often so I think it would provide good shock value and entertainment. And anyway, I just don't need them to know the times that I told them that that dress didn't make them look fat (when maybe it really did).

Oh and my dear colleague, SGM Auriane, told me that she'd rather hear me curse "Because even curses sound good to us yankees when said in the Queen's English."